Facilitate purchases from Instagram Direct, without leaving the chat
While the social network represents a significant sales channel for companies, with a billion people who send messages each week via the Meta group's family of applications, Instagram now offers the possibility of buying and selling products directly in Instagram Direct. The objective of the platform: to facilitate purchases from the messaging application without having to leave the chat.
We want to help people start conversations with the companies they care about and help them find and buy the products they love in a simple and seamless experience, right from the chat thread. That's why today we present you a new way to make a purchase on Instagram, where you chat, explains the social network in a blogpost.
Purchases are made via Meta Pay, the payment service from Mark Zuckerberg's group, which simplifies payment in a few clicks. The social network ensures that payments are made securely and purchases made from Instagram's chat are protected.
The new shopping features available in Instagram's chat
In concrete terms, Instagram users have the possibility of carrying out the entire purchase journey from Instagram Direct:
Start a discussion with an eligible company from the chat,
Browse a list of products,
Indicate customization options (such as the size for a garment),
Make your purchase via Meta Pay,
Track the order and ask about tracking.
For their part, companies can easily answer their customers' questions and confirm the details of their purchases from the chat. The item description and price mentioned in the chat allows them to quickly create a payment request and then receive payment online.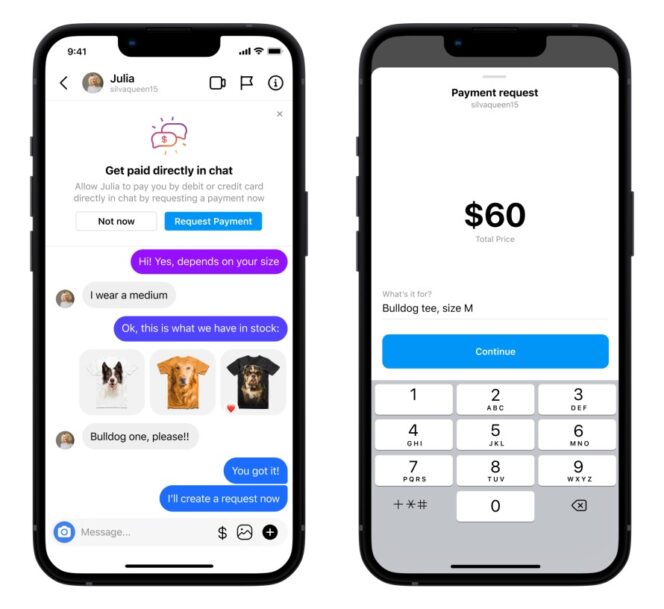 Create a new shopping experience in the metaverse
After launching new monetization tools last April to help creators earn money via the Horizon Worlds virtual reality platform, the Meta group continues its efforts to draw the outlines of a new shopping experience from the metaverse. .
As we look to the next chapter of the internet and the metaverse, we look forward to giving people greater access to tools like chat payments that will make people's lives easier.
Instagram: how to open a shop and sell your products