Jonathan Szwarc, co-founder of Join
After working for Nike France in Brand Content, Jonathan launched Join with his partner Nicolas Goudemant to move the essential Stories format from the sole interface of social networks to brand websites.
Web Stories, what are they exactly? Are there any differences to highlight with social media Stories?
Web Stories are the counterpart of the Stories format of social networks but deployed on the web. They can be integrated into all the pages of e-commerce or media sites. If the format is similar in terms of the content deployed (photo, video, text, quiz, polls), the main difference lies in the ability of Web Stories to be referenced in Google search engines and therefore to provide an SEO boost for the brands that take it over.
Join specializes in Web Stories. What concrete tools and services do you offer to brands?
We provide SaaS software for creating, distributing, and monetizing Web Stories. Our customers like to define us as the Web Stories Canva.
The latter create Web Stories "from scratch" in a few minutes thanks to pre-designed templates or reuse their Stories from social media to capitalize on this already existing content. These UGC (influencer stories for example) only live for 24 hours and are only seen by a single part of the audience on social networks. Web Stories are therefore a great way to capitalize on them at other key points in the purchase journey.
Behind, via a very simple technical integration, we allow our customers to deploy these Web Stories directly on their own site or mobile application. For example: on product pages such as the leading European beauty box brand Blissim or on their homepage for media such as Ouest France or Breakflip.
Finally, all the KPIs relating to Web Stories are reported via the Join interface: the number of views, the completion rate, engagement, responses to surveys and questionnaires, the increase in the addition to the basket, the rate of rebound, or even the conversion rate for e-merchants.
We support dozens of customers in France and abroad, such as L'Oréal, Carrefour, Cdiscount, MakeMyLemonade, Dijo, Blissim, Kard or even Lydia.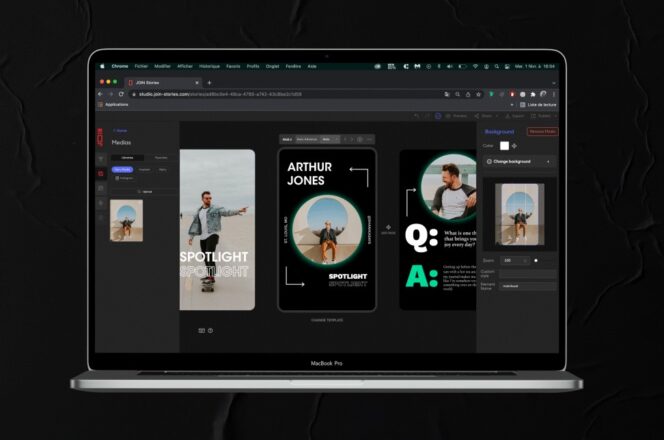 How did you come up with the idea of ​​getting started on this format? What were your first thoughts?
My partner Nicolas, we previously worked on the Instagram Stories format. Seeing Google deploy the "AMP Stories" code framework in 2019, we realized that tools would be needed to allow brands to create these Web Stories easily and in a scalable way. Without a tool, brands must call on a developer, designer, and content manager to create these Web Stories. Our wish is therefore to put in the hands of the Content teams a tool allowing them to create this mobile-first format in complete independence.
In which concrete cases can brands use Web Stories? On which channels?
According to a YouGov study from October 2021, 61% of 18-34-year-olds in France find videos essential to guide them in their online shopping journey (explanatory videos, tutorials, tests, unboxings, feedback). With mobile traffic booming, it is essential to have a format adapted to this device and not slow down the site.
We, therefore, help many e-merchants. The latter deploy Web Stories directly on their product sheets. This allows them to create a powerful reassurance experience, at a key point in the purchase journey, designed for mobile and oriented around video. We support brands such as Blissim, Hygée, Puissant, Perifit, and Yade who have fully understood these issues.
On average, we improve the conversion rate by 2.5 points on mobile.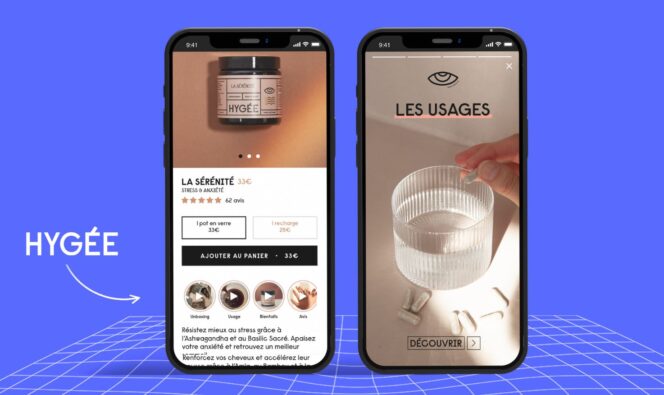 Web Stories are also used to create brand-driven unboxing experiences. Blissim, for example, integrates a QR code within these monthly boxes. Customers can scan it and see an explanatory Web Story appear with a video of one of their team members. Customers can also answer quizzes or surveys to share their feedback.
Finally, we also support media such as Breakflip or Ouest France, which covered the entire last presidential campaign via the Web Stories format. This allows them to reach a younger audience and gain natural referencing.
Last use case: internal communication. Brands like Bonduelle or even Veepee use Web Stories as a medium allowing them to distribute information to their employees. This allows them to modernize their approach and hire younger employees.
What does the Web Story format bring to brand content strategies?
Three essential elements sought by consumers today:
Content truly designed for mobile, immersive and visual.
Harmonization between the content deployed on social networks and that present on the brands' websites and mobile applications.
Humanization and reassurance content to answer all the main questions for e-merchants.
Web Stories are now referenced by Google (on Google Search and Discover for example). How does it work? What types of web stories are featured? What are the criteria to be listed there?
As a Google partner on this format, the Web Stories produced on Join are referenced by default. In other words, all of the texts written on each page of the Web Stories are crawled by Google like each word of a blog article, for example.
It is essential for brands to equip themselves with a tool compatible with Google technology to hope to see their Web Stories go up in the search engines.
The Web Stories that are highlighted are generally those that will meet the following criteria:
Stories containing videos supplemented by text,
Stories containing several pages (about ten),
Stories featuring content that audiences are looking for.
Google has encouraged publishers to take an interest in the Web Story format, just like AMP: the efforts made by the engine, however, seem less important today. Is this a risk for publishers?
It is important to differentiate between AMP and Web Stories. The AMP format is in a downward phase. On the other hand, the opposite is true for Web Stories, which are already deployed in the Search and Discover search engines in Brazil, the United States and India. The first Web Stories also appeared in the French Discover a few weeks ago, in May 2022. In addition, we are seeing Google's Web Stories teams grow over the months. This, therefore, shows the importance of the format within the company.
This format will be very important in the coming years for the simple and good reason that it allows Google to modernize these search engines. It allows the American giant to reach a younger audience who tend to seek information via social networks because the formats there are simply more suited to their current content consumption.
This format is designed for mobile, very visual and equipped with the codes of social networks.
What do you think are the emerging trends in Web Stories?
One of the key trends still concerns video. This is the content that undoubtedly performs the most. We see it every day for our customers. If we take e-merchants, we find that the most successful Web Stories are those that deploy authentic and otherwise very raw content. For example, videos are often filmed via a smartphone, showing customers using the product in question or founders talking about their brand.
If you had to give 3 tips to a brand that wants to get started in Web Stories?
1. Produce authentic content
Consumers seek reassurance before making a purchase. They want to see customers in action with the product, visualize an unboxing, and understand how a product is made. In short, they want authenticity and people. The first advice would therefore be to create Web Stories with raw content that humanizes the products. They complement the often highly branded content on the sites.
2. Choose a tool adapted to the uses of Content teams
The second piece of advice would be to choose an easy-to-use tool for the Content teams. Professionals who make Web Stories are often not designers, so they need, like Canva, to use a tool that makes it easy to create, distribute and measure content. At Join, we make it a point of honor to deploy software that meets these challenges.
3. Be accompanied by true vertical format experts
Producing vertical content still remains a challenge today. It is essential for brands to choose software partners with in-house experts to support them on their daily issues of inspiration, content creation, and performance measurement in a logic of continuous improvement.