Like every year on the occasion of International Emoji Day, the Emojipedia site reveals the new emojis that could be available between 2022 and 2023, on Android and iOS. These emojis will need to be approved by the Unicode Consortium, as part of Unicode iteration 15.
Shaky face, high five, solid pink heart…
Among the flagship categories of the upcoming Emoji 15.0 update: "hand", "heart" and "animal" emojis.
The new "hand" emojis
One of the top emojis in the list unveiled by Emojipedia is the "right-pushing hand" emoji and the "left-pushing hand" emoji. These two "hand" emojis used together form a high five. They may also be used to signify a refusal or a "stop". They will come in all skin colors.
The new "heart" emojis
The list also includes new "heart" emoji colors. So, plain light blue heart, gray heart and plain light pink heart could be available. The latter in particular is eagerly awaited by users, as Emojipedia explains in its blog post: "It's been one of the most talked about absences for many years, with the pink heart being among the most popular emoji requests since 2016".
The new "animal" and "plant" emojis
6 new "animal" type emojis would be expected. Thus, Unicode 15 could integrate caribou, donkey, crow, goose, jellyfish emojis, and a white wing emoji. On the side of nature-related emojis, there is a hyacinth, a ginger root and a pea pod.
The other emojis
The Emojipedia list contains only one face, that of the trembling face emoji which could illustrate a situation of shock or signify that one is confused. The arrival of a Wi-Fi symbol emoji is also worth noting.
Among the other emojis presented: a fan, a comb, maracas, a flute and a Khanda, symbol of Sikhism, a monotheistic religion in India.
Only 31 new emojis for Emoji 15.0
Emojipedia points out that this is the smallest number of new emojis in recent years. Indeed, the Emoji 14.0 update that came in 2021 contained 112 new emojis, while Emoji 13.0 and Emoji 13.1, in 2020, added 334 new emojis.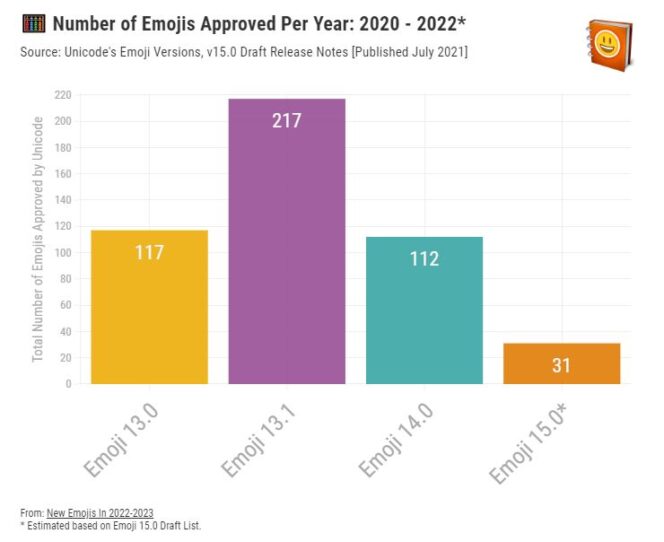 To justify this limited number of emojis, Emojipedia specifies that this new list does not include emojis representing people. "This is due to the fact that 'human' emojis have made up the majority of the last three updates", points out Emojipedia. Moreover, the Emoji 13.1 update, which occurred in 2020, alone counted 212 variants of different emojis representing people, whether non-gendered variants or skin color variations.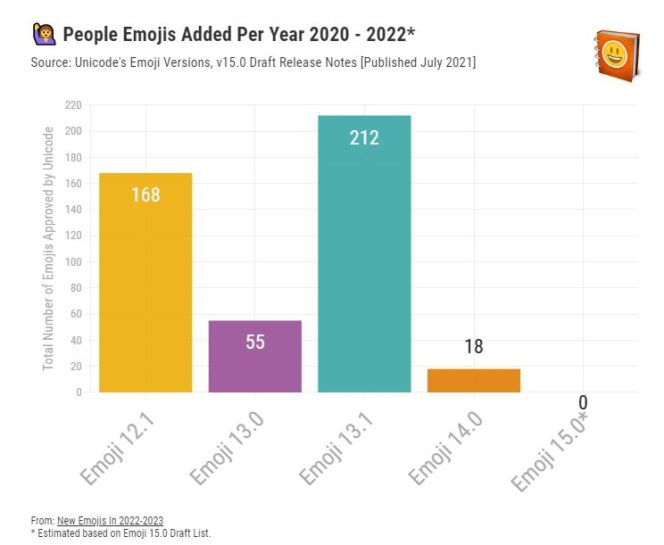 When will the new emojis be available?
According to the schedule established by Emojipedia, a final release of the Emoji 15.0 update should occur in September 2022. The site reminds that the emojis may differ from the preview currently published. This is only a "draft" and each emoji is subject to change before final approval in September.
The new emojis could then be deployed by Google between October and December 2022. For other platforms, the deployment could be staggered from January to October 2023.