A survey conducted by OpinionWay for the collaborative platform Slack, reports on the use of emojis in business. The results are based on the responses of 1051 people representative of the active French population, aged 18 and over. This sample was interviewed through an online questionnaire, from June 3 to 10, 2022.
Emojis increasingly used in business with hybrid work
Emojis accompany a large number of digital exchanges, including those inherent in the professional context. Thus, 75% of respondents say they use emojis in their messages made in a professional context and 68% use them in response to messages from their employees (see image of one).
For 41% of respondents, the strengthening of telework and the implementation of hybrid work have played a role in the increase in the use of emojis. 54% of respondents believe that their use has remained the same before and after the pandemic.
The use of emojis changes depending on the recipient
76% of respondents believe that the use of emojis is appropriate when exchanging messages with their colleagues of the same hierarchical rank. However, this percentage drops drastically when it comes to their hierarchical superiors. Thus, 48% of employees surveyed are in favor of it during exchanges with their bosses or hierarchical superiors, against 49% who say they never use emojis during these exchanges. The percentage drops further when it comes to customers (38% for) and suppliers (36% for).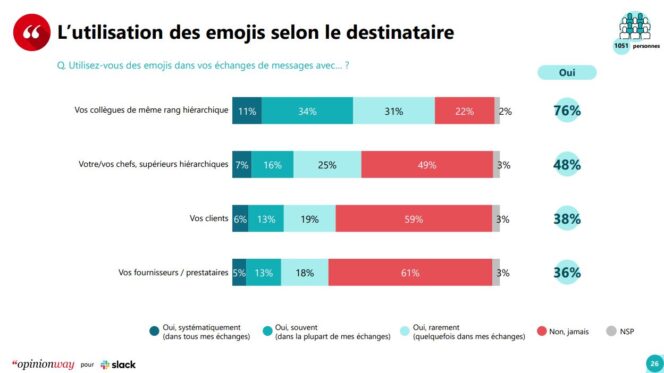 Emojis reinforce closeness with colleagues
For a large majority of respondents (71%), emojis help create a bond and strengthen proximity with colleagues. For 70%, their use humanizes communication, in a context where digital exchanges have increased, while 63% believe that emojis make professional exchanges simpler, more pleasant and more productive.
Emojis are preferred for certain communication channels in the professional context
Still in the professional context, emojis are still struggling to find their place on collaborative platforms. These come at the end of the list, with only 39% of respondents saying they use them on this communication channel. Text messages thus remain the preferred channel for the use of emojis for 72% of respondents.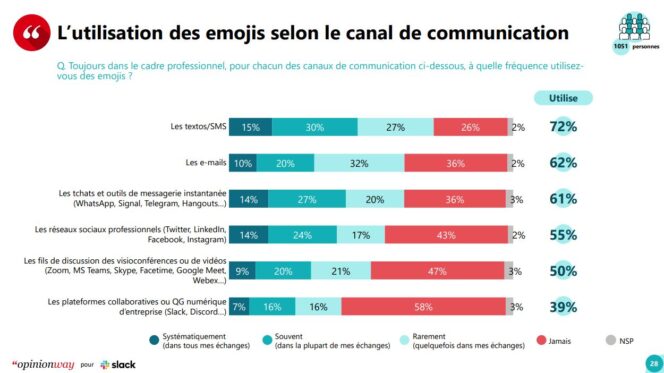 The emojis most often used in professional exchanges
Regarding the emojis that are most often used, 46% of respondents cite the thumbs up emoji, of which 16% ranked it 1st. The winking face is used by 38% of respondents, 13% of whom name it first. The smiling face emoji comes in 3rd place in the ranking, cited by 34% of survey respondents and by 14% in 1st place.
Top 5 of the most used emojis in professional exchanges:
👍 (46%)
😉 (38%)
😊 (34%)
👌 (27%)
😂 (21%)