Between social networks, competition is raging. After announcing the arrival on Facebook of a new TikTok-like news feed, Meta also communicated news about Reels on Instagram. The goal? Give more weight to this video format, to cope with the exponential growth of TikTok.
Videos automatically turned into Reels on Instagram
Instagram wants to make Reels its only video format. From now on, when you publish a video on the platform, it will automatically be transformed into a Reel. On your profile, all of your videos will be grouped together in the same tab.
Another impact of this change: if you have a public account, your new video posts (transformed into Reels) will be recommended to a greater number of users, outside your circle of subscribers (for Reels of less than 90 seconds only). If you have a private profile, your Reels will only be seen by your followers.
Video posts that are not affected by this transformation:
The videos already online on the platform to date,
Newly posted videos that are longer than 15 minutes.
The arrival of Reels templates
Instagram provides templates to make your job easier, but above all to encourage you to create Reels. To access these templates, just follow the steps below:
On Instagram, go to the Reels tab,
Click on the pictogram which represents a camera, located at the top right of your screen,
Tap the tab Models that appear in the bottom menu, then swipe to find the template that suits you, and select Use the model,
Replace the video content with your own content, so that Instagram generates your Reel,
When you're done, click Next add a description if needed, and press To share to post your video.
Note that to make editing easier, Instagram also offers a "dual" mode, which allows you to record content from your front and rear camera simultaneously.
New options for remixing Reels
Looking to collaborate with other content creators to make original Reels? Instagram offers new options for remixing posts and integrating them into your own videos:
Remix for photos: you can now integrate public photos into your Reels,
Sizes: Instagram allows you to add a green background, a horizontal or vertical split of the screen or even a picture-in-picture mode to integrate your reactions or comments to the original Reel.
Adding Clips: it is possible to add your video sequence before or after the original Reel, rather than appearing simultaneously.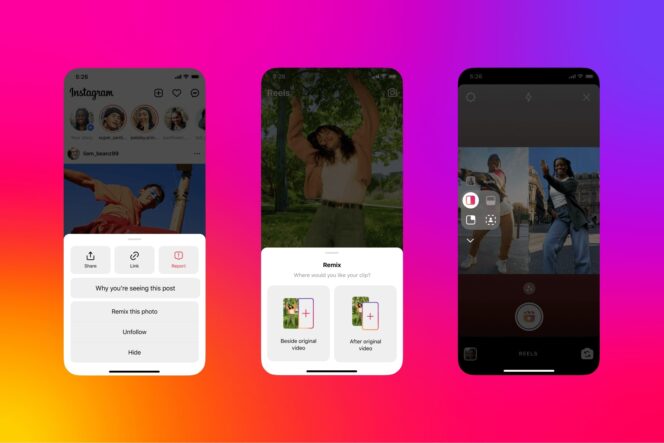 Source: Instagram