Like every year, Emojipedia has unveiled the ranking of the most popular and most anticipated reactions, on the occasion of World Emoji Day, which took place this Sunday, July 17. The World Emoji Awards have determined which are the 10 emojis most used by Internet users, among those that have been integrated on the main platforms in recent months, but also the one that best symbolizes the year 2022, as well as the most anticipated of the next update.
What is the most popular new emoji of the year 2022?
For this award, Emojipedia says it analyzed and measured the data based on a total of 463 million tweets posted since 2021. which precedes the hands forming a heart and the melting face.
🥹 Face holding back tears,
🫶 Two hands forming a heart,
🫠 The melting face,
🫣 The face with a furtive eye,
🫡 The face that makes a military salute,
🫰 Pinched fingers,
🫢 Face with open eyes and hand over mouth,
🫧 Bubbles,
🫥 The dotted face,
🫤 The face with the diagonal mouth.
Note that all emojis from the 14.0 update were eligible for this category.
Which emoji best represents the year 2022?
At the end of suspense that will have lasted nearly 2 weeks and according to the results of thousands of votes collected on Twitter, the verdict is in the emoji that best symbolizes the year 2022 is the melting face 🫠. According to Emojipediait is used most of the time to refer to " literal warmth, embarrassment or even a touch of terror at times… ".
The hidden meaning of the most used emojis by Generation Z
What new emoji is the most anticipated?
Among the new emojis announced by Emojipedia as part of the 15.0 update, the specialized site polled its community to find out which reactions are the most anticipated. With a large majority of votes, the pink heart wins the award for the most anticipated emoji of the year 2022 (38.1%), ahead of the trembling face (10.7%) and the heart light blue (7.3%).
The complete ranking of the 10 most anticipated emojis in 2022:
The pink heart (38.1% of the vote),
The trembling face (10.7%),
The light blue heart (7.3%),
Goose (6.2%),
The black bird (5.9%),
jellyfish (5.3%),
The gray heart (3.7%),
The donkey (3.6%),
The folding fan (2.8%),
The wing (2.4%).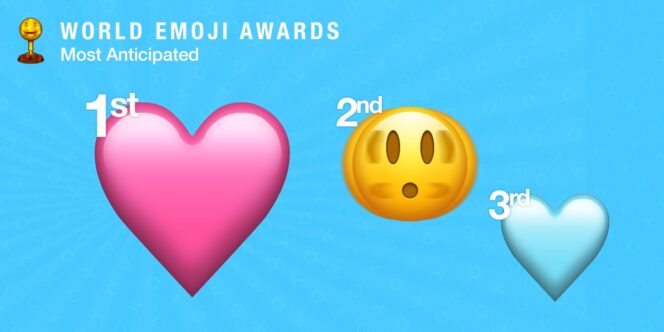 Bonus: a special mention for the red heart ❤️
As part of these World Emoji Awards, Emojipedia also awarded the prize " Lifetime Achievement to the red heart emoji ❤️, which people have been using the most for many years.
It is awarded to some of the most popular and meaningful emojis we see every day in our texts and social posts, whether old or new.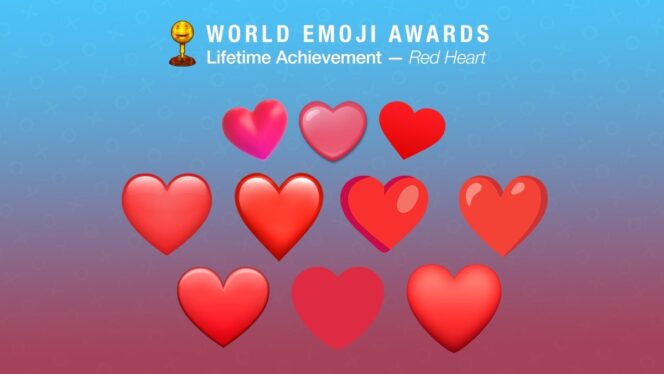 Source: Emojipedia