On June 28, the event Twitter is Gaming took place. On this occasion, Twitter France unveils the results of its study carried out on 44 million tweets around gaming in France in 2021 and 2022 as well as the results of its survey targeting a representative sample of Twitter users interested in gaming (1200 users of Twitter in France, in June 2022).
Gaming on Twitter in France: the key figures to know
Here are the key figures concerning the subject of gaming on Twitter in France:
44 million tweets around gaming in 2021 in France.
1.4 tweets per second around gaming in 2021 in France.
1 in 2 people is interested in gaming on Twitter, compared to 1 in 3 people who are not on Twitter.
69% of people on Twitter consider Twitter a go-to source for all things gaming.
48% of respondents follow influencers/streamers on Twitter to find out about their current projects. And 42% follow video game brands.
89% of conversations about esports happen on Twitter.
+25% tweets for esports discussions in 2022 vs. 2021.
+32% tweets for PC gaming discussions in 2021 vs 2020.
Twitch users favor Twitter for chatting
Twitter hosts the majority of discussions about Twitch:
97% of online written conversations about Twitch are on Twitter vs. other platforms.
6.3 million tweets about Twitch on Twitter in France.
+40% tweets on Twitch in 2021 compared to 2020.
75% of respondents believe Twitter is essential for following and discussing streaming events on Twitch.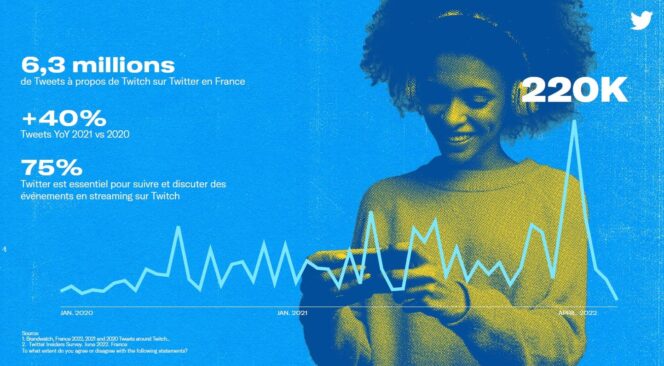 The profile of gamers on Twitter
Regarding the profiles of PC gamers in France:
60% men vs 40% women
+ 11 Twitter vs. Twitch PC Gamer Points
28% of PC gamers Twitter audience is 18-24 years old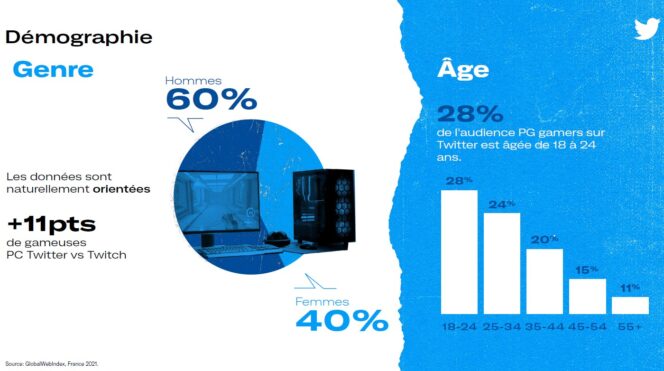 Regarding the profiles of esports enthusiasts in France:
77% men vs 23% women
62% of the conversation about esports is made by 18-24 year olds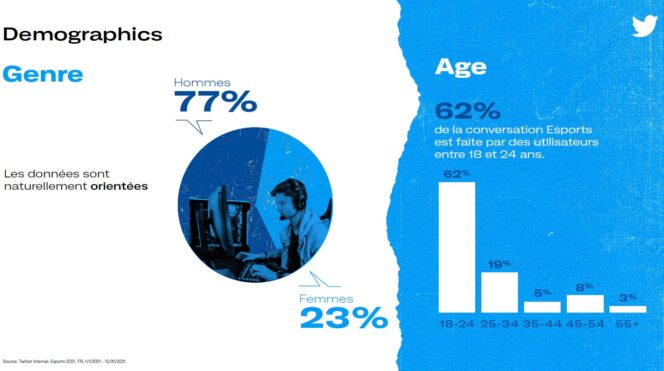 Gaming is booming and becoming more feminized
The gaming industry is booming: this sector is experiencing a real revolution, codes are changing and feminization is gradually taking place, as shown by the figures above concerning the profiles of gamers on Twitter: almost half of PC gamers are women (40%).
Kayane, professional player and holder of a Guinness World Record testifies on this subject: "At 10, I was playing with my brothers and I beat all their 20-year-old friends, which was unlikely at the time, especially for a girl. When I started, 20 years ago, it was not necessary to say that we played it was frowned upon and we were not taken seriously, now we are invited to the Elysée, there are schools offering training related to gaming and esports, a real craze is taking place. »