After another fierce battle, 😂 is well ahead of 😭
New twist on the side of emojis on Twitter: the emoji with tears of joy is regaining its popularity with Internet users!
In April 2021, the emoji 😂 (Face with tears of joy) had lost its first place in the ranking of the most used emojis on Twitter, for the first time since 2012. In parallel, the emoji 😭 (Loudly crying face) climbed to the top step of the podium. Last January, the emoji with tears of laughter came back slightly ahead, thus starting a long duel between the two expressions.
But since April, it is possible to observe a new growth for the emoji 😂 (see the graph above). Finally, the face with tears of joy, often mocked by Generation Z, and even qualified as an emoji for boomers sometimes, therefore seems to be coming back in force!
New record for using emojis on Twitter
While Emojipedia announced a record for the use of emojis in 2021, it seems that 2022 will be even stronger! After analyzing more than 1.55 billion tweets, July 2022 broke all records, with 22% of posts including an emoji.
Over the years, the use of emojis has become entirely part of our customs when we exchange on the web. On Twitter, for example, we can observe that the use of emojis has been constantly growing since 2012.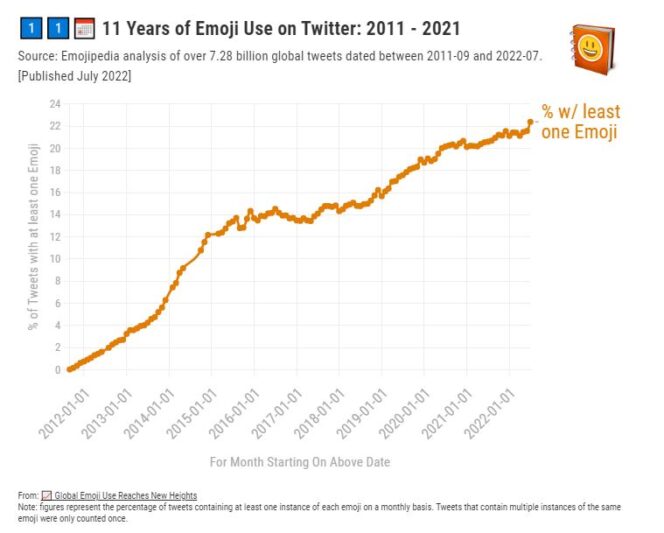 Source: Emojipedia